Infrared Heating for Churches.
Read our customers reviews:
I would like to forward to you our experience regards heating our Church this past year.      Since 1976 our Church in Newport, Isle of Wight has been heated by a Gas Boiler with underfloor heating. In autumn of last year, we found ourselves without heating for the winter as our boiler was condemned as unfit.  As it happened of course we had very few meetings to heat for during last winter. So this spring and summer 2021 we had to find a new source of heating for the winter. We looked at a new boiler or gas radiators and found them expensive and of course against government recommendations. Then we looked at electric radiators and night storage which we found expensive as we were trying to heat a large area, a high sealing, and also would need three phases of electric power. We had a quote for it to find it to be at least £7000.00 to add to the cost of any sort of radiator.  Thankfully we were in touch with Infrared  Heater Co. who quickly pointed out that with Infrared we wouldn't need 3 phase electric power, as they heat the people and furniture and not the space.
     In September of this year we ordered 8 although 6 may have been sufficient Hellosa 2200W Infrared heaters .which we received in about a week. They were fitted in about two days and have been very effective and at times more than enough warmth. We would thoroughly recommend them for similar situations.
Sent from my iPad.     I hope you find this useful. Thank you, 

John

.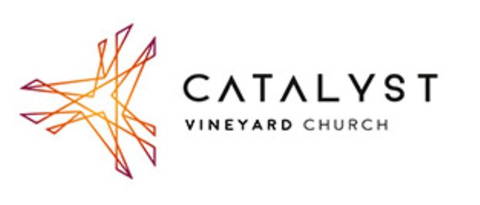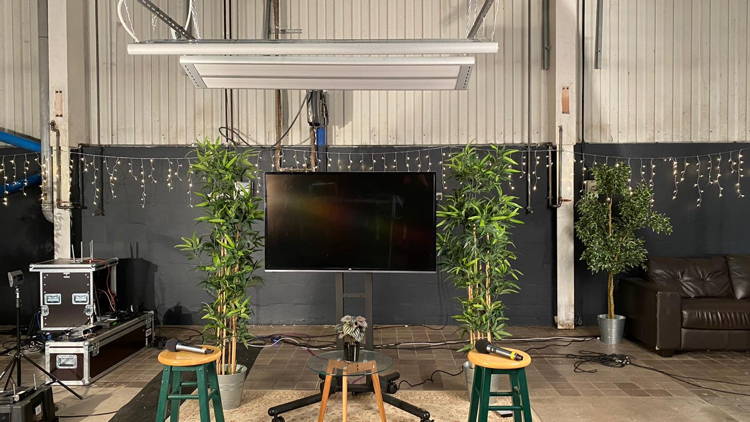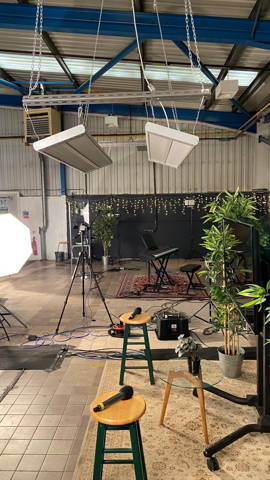 Catalyst Vineyard Church is a multi-site evangelical church in the north east of Scotland. Historically, our various church locations would meet in rented venues throughout the region, however, the pandemic soon meant that physical in-person church gatherings were not possible.
In response to the rapidly changing situation we took on a warehouse building for the purpose of livestreaming our church services online. The size of the warehouse allowed us to create several recording stage areas which was a must have during a time where social distancing was so import for the safety of everyone involved.
One of the problems that we soon came up against was that the warehouse space only had one working high level gas blower which was inefficient and noisy! (noise is something you really don't want when recording sound). We would turn off the heating when recording our church services so that you wouldn't have the heating banging away in the background, but this also meant that everyone that was involved was sat in the freezing cold for a number of hours. 
Without delay, we started looking for a solution to our very specific situation. We were in need of a heating solution for targeted areas (our recording stages), that would not produce any noise or light pollution. 
I came across the Infrared Company when searching the internet and was actually quite enthused by seeing that they had a few reviews on there from other churches. I was particularly interested in a review made by Graeme Baldwin of City Praise Centre, as their building looked very similar to our warehouse venue. I made contact with Graeme to try and get as much information on their experience before we looked to spend any money. One of the things I felt quite encouraged by was that the heating panels were a system that was easy to install, and you could start small and just buy more if needed.

I then got our electrician involved and we planned on how to make these panels work in our venue. We initially ordered just 6 x 2kw No-Glow infrared heating panels, with the idea being to suspend 1 panel over each stage area. A few weeks later we had the panels up and hanging above each stage area, however, it was a real headache to try and find the best setup for our needs.
Eventually, we found that mounting 2 x 2kw panels on adjustable chains (at a slight angle) side by side, and at a lower level was the way forward for at least one of the stage areas. This gave us a higher concentration of heat in one location. The other stage areas required a similar kind of 'experimenting' attitude to find the right balance.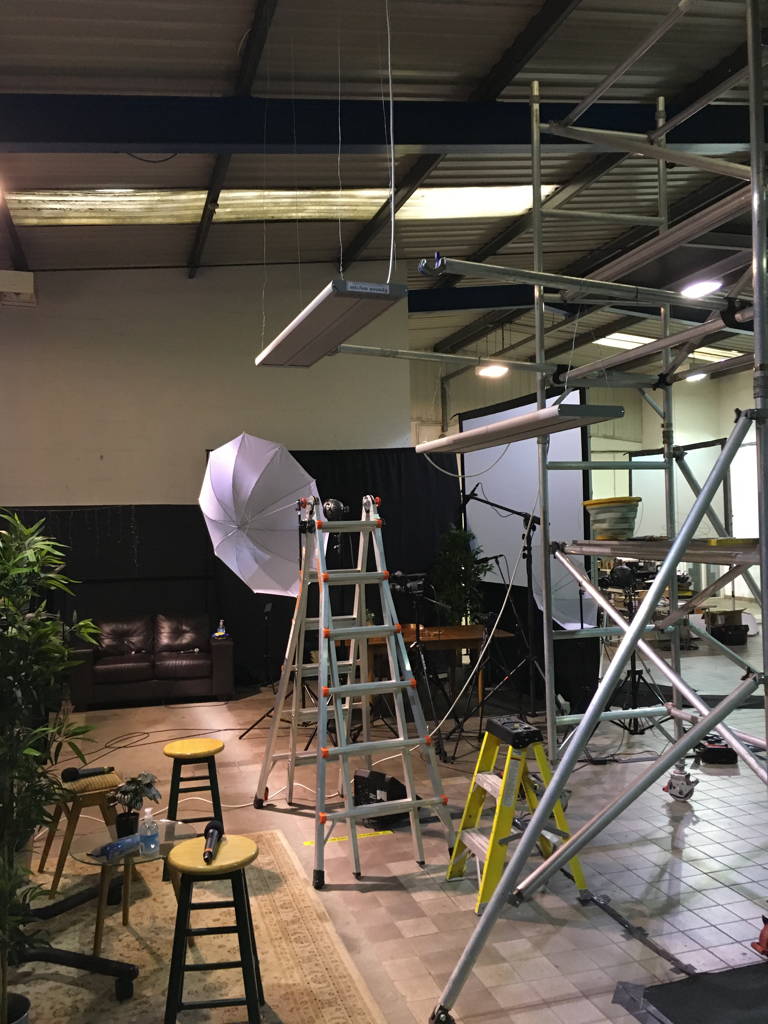 After using up all the panels we had ordered, I went back to the Infrared Company to order more heating panels for our last remaining stage area. This time I just went ahead and ordered 3 x 4Kw panels, as the last stage area covered a larger area.
We came up against more issues on the way, but once the heaters we in their final locations and switched on we were very pleased with the results. We now have a heating solution that doesn't produce additional noise or light and can very easily be removed should we need to either modify the stage areas, or if we decided to vacate the building.
A lot of head scratching on the way, but we are finally happy with the result!
The Infrared Company were easy to order from and delivery was nice and quick too, what more could you want!
****************************************************************************
Badcaul Church of Scotland has served the local village for over a century, but recent changes have been made to make the space more versatile for community use. This involved removing rows of pews from the front of the building to free up space for other activities – which created a problem: heating to this area had previously been by electric bar heaters below the now removed pews. With no mains gas available, oil fired central heating expensive to install, and a limited electrical supply to the building, options seemed limited – especially given the size of the building, the height of the ceiling, and little insulation. Then we contacted the Infrared Heater Company with a description of the problem, a sketch of the building, and a plea for help. The response was immediate, detailed and affordable. Very soon after two infrared ceiling panels were soon on their way north. Easily installed by willing volunteers, the heaters proved an instant success. After a short time to pre-heat, they effectively warm the activity space without having to heat the unused areas and roof space. Result: lots of happy exercise groups, social gatherings, craft classes and community lunchers. We are deeply grateful to the Infrared Heater Company. We couldn't have done it without you.

2020-29-Mar
Stuart Smith
Badcaul Church of Scotland
"Having no functioning heating and a broken underground gas pipe caused us to rethink our heating system for our warehouse which houses a 500 seat auditorium.  The previous gas heater for the unit was very uneven in the heat distribution, noisy and unsuitable to use during the service.  After some initial exploration we discovered the possibility of using 'no light infrared' units.  Speaking to Dale we discussed our requirements and situation.  Our solution has been Infra red units hung from the roof (about 6m away from the floor) which are silent and have provided us with 3 controllable heating zones, producing even yet tailored temperatures across a building that previously had very clear hot and cold zones!  Despite the units being located at the very edge of their ideal operating distance due to our lighting rig they are capable of heating the building from cold 6/7 degrees to 19 degrees in a couple of hours, which is then very easily maintainable.  The panels themselves were delivered within a couple of days of placing the order and installation was through our local electrician who started on Monday morning and left us a warm building on Thursday evening!   The app based remote control and programming saves worries about arriving early to turn it on or returning to see if someone's left the heating on.  We are very happy with this innovative solution as the panels are very unobtrusive and operation truly is hassle free!"

2020-22-Jan    
Graeme Baldwin   
City Praise Center.